Everything you never thought to ask about...
Beginning Band
By: Richard Maldonado
 Your child has come home from school excited. "There were instruments at school today!" Odd, but ok, let's see where this is going. "The music guy came, he let us try out all the different instruments! I played the flute and the saxophone, and the music guy said I did really good on the euphonium..."
 What on Earth is a euphonium?! you ask yourself. Still, this is good right? Children should be exposed to the arts and I guess it's neat that..."I signed up for band!" your child announces.
 Ok, what now? If you're like many parents we meet, this (or something like it) is probably how you ended up here. Our kids aren't always the best at passing along information from the school and though technology has made it easier for teachers to get in touch with parents, the system is still far from perfect. No matter the reason, it's common for parents to feel overwhelmed or even confused by what it is exactly that their child needs to get started. So, let's start at the beginning. And rest assured that by the end of this, if you didn't already, you'll even know what a euphonium is.
Table of Contents
(Click a link below to jump directly to that section)
Who Decides What My Child Will Play?
What Are The Instruments In Band?
What Do You Need To Get Started?
So, How Do You Get What You Need?
What Happens If It Breaks?
Any Other Questions?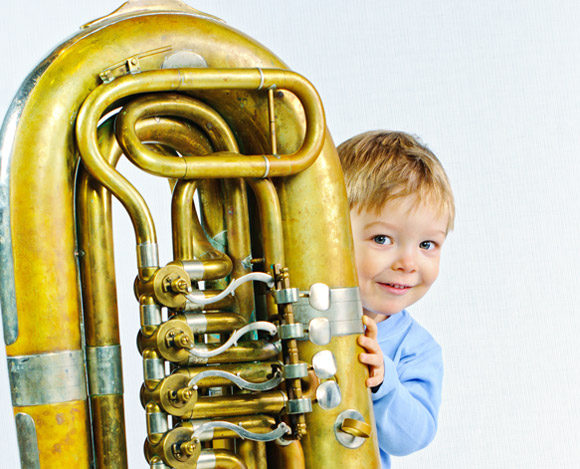 Who Decides What My Child Will Play?
 Band directors from your child's middle school / junior high / intermediate school (the campus will vary by school district), will often take the opportunity to meet with students the year before they are actually going to be in class. The director may visit their feeder elementary schools or have an "instrument petting zoo night" where families come to the school. Other directors might wait until the fall to place children on instruments. It really just comes down to individual programs, campus rules and a coordinated effort with the school counselors. In any case, this meet-and-greet let's your director take some time to test the students on various instruments and determine where the child will be most successful.
 Every director has their own criteria and method for placing the students, but the child's preferences are also considered. It is important at this stage that any concerns you may have with the instrument selection be discussed with the director. Class schedules are often made based on these selections and it could be difficult to reshuffle an entire schedule to accommodate a change in the student's instrument selection.
What Are The Instruments In Band?
 This brings us to the instruments themselves, which can be separated into woodwinds, brass and percussion. (A brief description of these categories and the instruments themselves will be presented. Please feel free to skip ahead if you are already familiar with this information by clicking here.)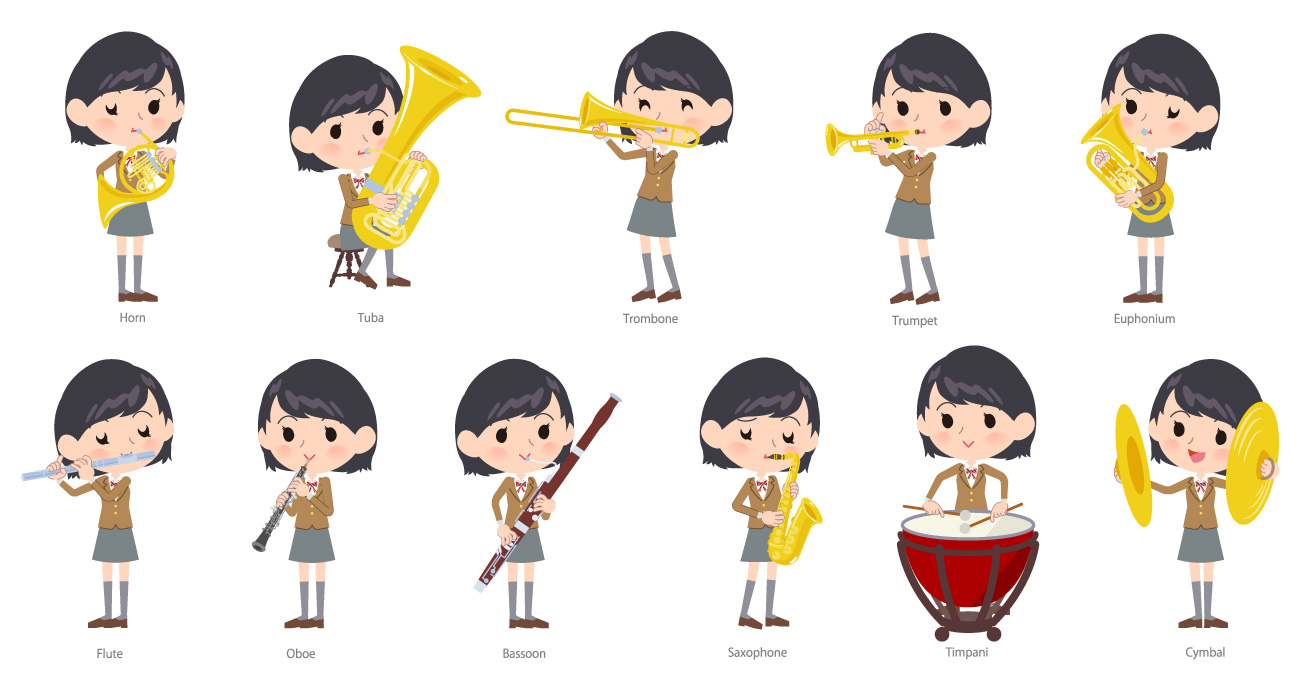 (Just a few of the instruments in the band)
Woodwind Instruments
These instruments produce notes by either blowing air across an opening (called an embouchure hole), blowing into a mouthpiece to vibrate a single reed or blowing air into a double reed. The woodwind section includes:
Flute
Oboe
Bassoon
Clarinet
Alto Clarinet
Bass Clarinet
Contra-alto Clarinet
Contrabass Clarinet
Saxophones (including soprano, alto, tenor, baritone and bass saxes)
Brass Instruments
The brass section uses a mouthpiece and the vibration of the players lips to produce sound. That's why, even though saxophones are made of brass, they are not a "brass instruments." The brass section includes:
French Horn
Cornet
Trumpet
Flugelhorn
Trombone
Baritone
Euphonium
Tuba
Marching Brass (such as mellophones, marching baritones and sousaphones)
Percussion Instruments
While most people think of drum sets when they hear the term "percussion," this section consists of any instrument that is struck, scraped or shaken to produce sound. Instruments in the percussion section include:
Snare Drum
Bass Drum
Cymbals
Timpani
Xylophone
Marimba
Vibraphone
Bells
Auxiliary Percussion ("toys" and miscellaneous hand percussion)
What Do You Need To Get Started?
 After your child is placed on an instrument, their director will often provide you with information regarding their preferred brands of instruments. They may also have a list of general accessories they want every member of the band to get, as well as some instrument specific accessories to care for and maintain the instrument. These can include a tuner/metronome, method book, reeds, oils, cleaning supplies, etc. It's important to follow the director's recommendations when it comes to both the instrument and the accessories. Your band director has taught hundreds if not thousands of students and with that level of experience, you should trust them to know what their students have been successful on. They have seen which models are easier for a beginner to produce a good tone on and which brands need to be sent into the repair shop more often.
 Your director will likely recommend a beginner or intermediate level instrument. These models are built to better handle the abuses a young player may put them through. For example, trumpet valves on a student level instrument will often not be fit as tight to the valve casing. This allows for the instrument to still function when the student uses incorrect technique or when they forget to oil the valves. Instruments at this level will not have all the same features as a professional level instrument, but they will also cost substantially less. Your director, with the help of their educational sales representative, has probably put a lot of thought into finding the right balance of cost, longevity, durability and tone.
 The same care and thought has gone into your band director's accessory list. Every item on the list serves a purpose and will, in some way, help your student be successful. Maintaining the instrument is a big part of what your student will learn in the first few weeks and that's why it's so important to have everything the director asks for when they ask for it. This is such an important part of what your student needs to know that many directors will even make it one of your child's first graded assignments in class. If you have any questions about an item, please talk to one of our sales associates.
 Your director, often with advice from their educational sales representative, will try their best to balance price, quality, durability, longevity, intonation and tone when recommending instruments. While it may be tempting to look for a less expensive alternative, try to keep in mind that the director has reasons for asking for what they do. Band is a group activity and the director needs to know that every instrument in their program will blend and balance. Some non-approved instruments may have tuning issues, meaning your child will struggle more than they should. Even worse, finding a "great deal" on a non-approved instrument can quickly turn into a costly mistake the first time you take the instrument to be repaired. A less popular or discontinued brand may not have parts available should something break and the instrument may even be unrepairable.
 If you have any questions or concerns, you should speak with your child's band director first. They can usually clarify any misunderstandings quickly and will often appreciate you getting in touch with them before you get the wrong thing. On the other hand, if you need any help choosing from the list of approved brands or want to know more about a product, our friendly and knowledgeable staff are here to help. We have many product specialists on staff so no matter what instrument your child will be playing we have first hand knowledge to help guide your decision making.
So, How Do You Get What You Need?
 With all of this in mind, how do you go about getting what your child needs? At High School Music Service, you can shop with us in store, by phone or online. Both of our locations do their best to keep up to date preference lists directly from your band director. You should of course cross reference this with the list you were given as there can sometimes be last minute changes made and we want to be sure you get the correct items.
 Any accessories you may need will be available for purchase, but you do have a few options to choose from when it comes to the instrument. Instruments can be either purchased or rented from High School Music. Below are some of the reasons why you might choose one over the other:
Rent To Own
You pay only your initial down payment to get started
100% interest free
The instrument can be returned at any time
Early pay discount lets you save money if you decide to purchase the instrument
Build equity towards the purchase of a step-up instrument
Rent in person, over the phone or online
Purchase
Our purchase price is the very lowest we can offer
No monthly payments to keep up with
Our buyback guarantee means you can sell us the instrument back, minus what you would have paid in rent, for the time you had the instrument
At this time instrument purchases are only available in person and over the phone
What Happens If It Breaks?
 No matter how careful your student is, or how well made the instrument is, there will be times when their instrument needs to be maintained. Woodwind keys can bend, brass valves can get stuck, pads can rip, mouthpieces can get stuck. These are all things that happen regularly and are simply part of the normal wear and tear associated with playing an instrument. As handy as you or your partner may be, these repairs are best left to experienced professionals.
 That's why High School Music has an in-house repair shop with specialized brass and woodwind repair technicians. Even better, when you buy or rent from us, you can add on our Maintenance and Replacement coverage, meaning there isn't any out of pocket cost for almost everything that could happen to your instrument. This can be added on to your rental for a nominal monthly fee or you can purchase annual coverage if you own the instrument. Either way, you have peace of mind knowing you aren't going to be hit with any surprise bills.
Any Other Questions?
 Band will likely be a very big part of your child's life from this day forward. It's going to open an entirely new world to them. They will potentially be doing this for the next seven years of school, if not on into college and beyond. Becoming a musician will shape the way they view the world while teaching them the importance of hard work, practice and perseverance. They are going to learn teamwork and build some of the closest friendships they will have in school and maybe in their life.
 Throughout this journey, you and your student are going to have many questions and sometimes need guidance. One of the best places to start is with advice from musicians who have already been down this path. You deserve honest advice from people you can trust. Our staff consists of former band directors, gigging musicians, industry professionals and even a Grammy award winning artist. You are going to get the highest level of customer service and a truly personal experience. We are always ready to go the extra mile to make sure your student has what they need, when they need it. This is our promise to you and to your future musician.
 So, if there is anything you need, we're here for you. Check back soon for more information about instrument repairs, maintenance tips and tricks, reviews on the latest products and guides to all things band and orchestra. And from all of us at High School Music Service, welcome!